I'm thrilled to announce my Functional Breathing Course and share some other exciting news with all the readers of my blog.
I know that it's not only patients that read this site, but there are also a lot of healthcare providers too. This post relates to both professionals and people who are interested in myofunctional therapy for themselves or their families.
First – the big news! I'm launching a brand new online educational platform called Sarah K Hornsby. I'll be releasing several courses for both patients and professionals on the platform over the next few months. I think it's going to be an amazing way to share information about myofunctional therapy with even more people. So please stay tuned to this blog for the upcoming announcements.
The August Functional Breathing Course
The first official course I'm hosting on the new site is a breathing course I put together with Dr Dan Hanson from the beautiful Gold Coast of Australia.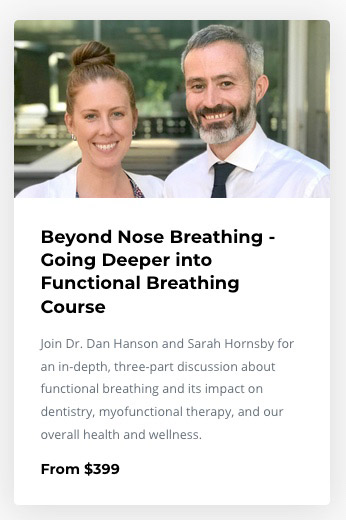 I met Dr. Hanson on the recent Myo Munchee USA tour that I was part of. If you're one of the practitioners who were there and had the opportunity to hear him speak, you know how brilliant he is! I asked Dr. Hanson to put together a breathing course for myofunctional therapists, dentists, and other healthcare professionals, as well as any health and airway enthusiasts who just want to learn a little bit more about functional breathing.
What's Covered In The Functional Breathing Course?
It's a three-session course that's designed to give attendees a good understanding of dysfunctional vs. functional breathing, as well as practical takeaways that they can apply to their patients or to their own lives.
Session One: An Overview of Dysfunctional Breathing
On August 20th, we'll be covering the difference between functional and dysfunctional breathing. Dr. Hanson will explain how to identify the subtler signs and symptoms of dysfunctional breathing beyond just mouth breathing vs. nasal breathing.
Session Two: The Root Causes of Dysfunctional Breathing
On August 27th, Dr. Hanson will be going into the root causes of dysfunctional breathing. He'll also take an in-depth look at over-breathing, oxygenation, CO2, Nitric Oxide, as well as the role the autonomic nervous system plays in our stress response and our sleep-breathing cycles.
Session Three: Management of Breathing Dysfunction
On September 4th, we'll get practical with breathing retraining exercises, and we'll go into the Buteyko Breathing Method. Dr. Hanson will cover research, neuroplasticity, treatment options, and the key takeaways from the course.
Who Is Dr. Dan Hanson?
Dr Hanson is a myofunctional orthodontist and Buteyko Breathing expert. His dental practice is focused on functional breathing, early treatment of oral myofunctional symptoms, infant frenectomies, and airway-focused orthodontic treatment.
He's also a passionate educator and international speaker, co-founder of Myofocus and The Tongue Tie Institute, as well as being the inventor of the sleepYstrip nasal breathing tape.
Who Should Attend?
The Functional Breathing course was designed for any health professional who's interested in healthy breathing and wellness. Whether you're a dentist, doctor, hygienist, chiropractor, physical therapist, naturopath etc. you're welcome to attend. I know you'll be impressed by the depth of information and the effectiveness of the exercises described on the course.
This course is also a fantastic way for any healthcare professional who's interested in myofunctional therapy but not quite ready to commit to one of my 12-week MyoMentor myofunctional therapy courses to find out more about the field and airway dentistry in general.
Although the course is designed for professionals, many of my followers and patients take their health very seriously and have asked me for more information about breathing. If you want to dramatically increase your knowledge of functional breathing, this course would be ideal for you. And if you think your doctor or dentist might be interested, please feel free to share this information. I hope you can join us.